What is a definition of an ideal client profile known as ICP
Identifying your Ideal client search can begin with lead capture form data to turn leads into clients. I was fortunate to open and run a successful floral and wedding business for over 12 years. When I started, I didn't know my ideal clients. It didn't even cross my mind that knowing your target audience was important. I just wanted to book anyone. I certainly did not know how to go about finding my ideal clients.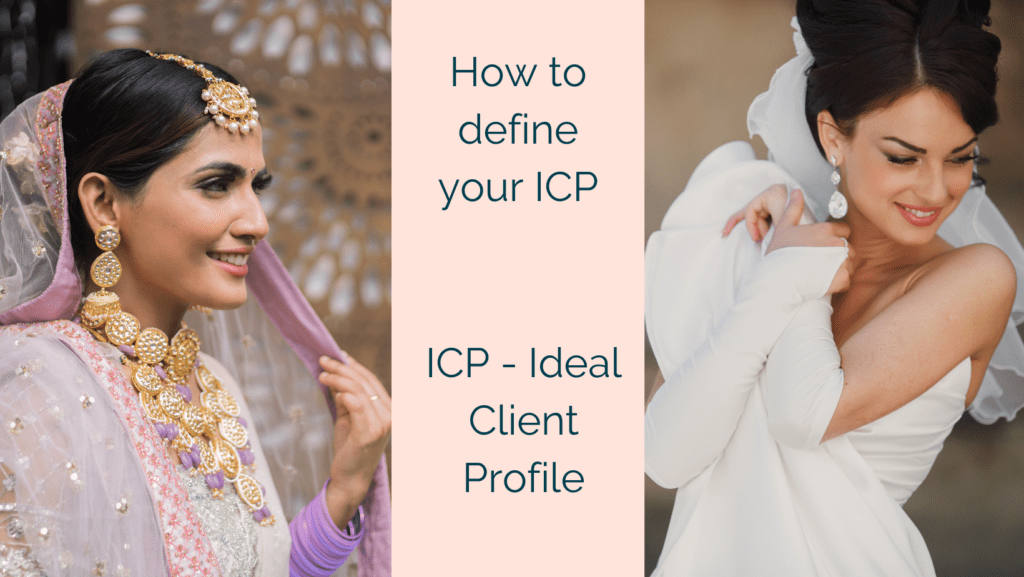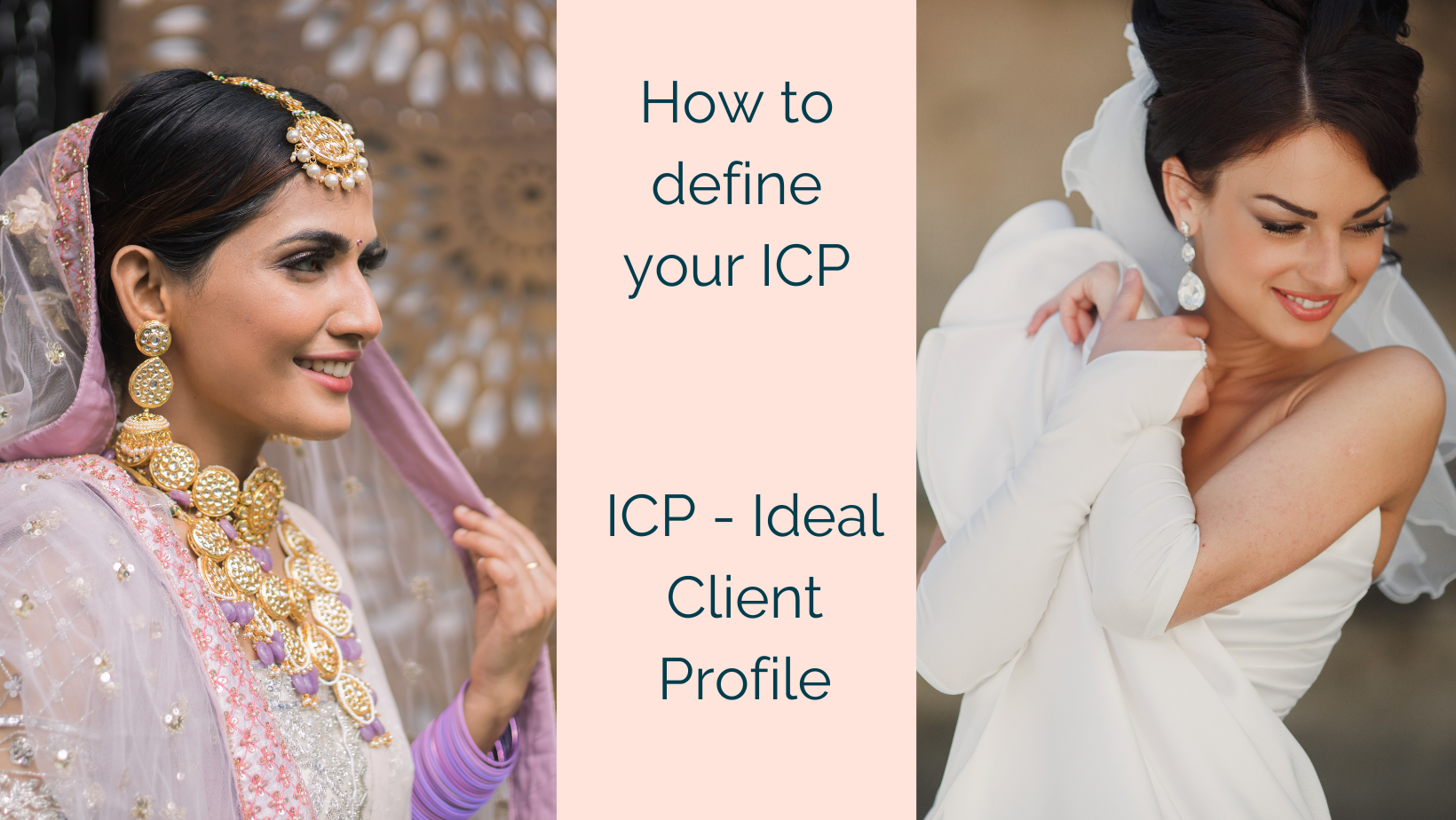 In short, an ideal client profile is a detailed description of an ideal customer for a business. It includes information such as demographics, behavior patterns, and pain points. It helps with marketing efforts and creates products and services that will meet the needs of its ideal customers. This can help a business attract and retain customers more effectively and ultimately increase revenue.
Do you take on clients not knowing your ideal client? I did; read on…
As a home-based studio florist, I took every client as any new business would. I was trying to make my statement come true: to help with my children's education tuition fees. However, as my business grew and became more established, I questioned whether my services were for everyone. I would consider some of my client's requests and overall expectations. Be it a bride who wanted everything DIY, or sometimes there was simply a lack of synergy. My journey to discover my ideal client could not have been done without my long lead capture form.
As my business grew, I became more in tune with my ideal clients with a lead capture from collecting data.
I started to question if my services were for everyone.
As my business grew and I became more established,
Depending on how long you've been in business, you may have thought about this too. I even returned checks to a few wealthy brides because of their lack of kindness. I had to learn boundaries and how clients communicated with me, and my staff mattered to me. When I intentionally built a portfolio, I understood how the overall brand of my business affected my ideal client.
Eventually, my portfolio started to attract the type of clients I wanted. As a self-made florist, I didn't have ideal client data or portfolio, which is why I took on every client. As I developed my floral recipes, my portfolio became more refined. I noticed a shift in the type of clients that would find me.
Building Your Business Portfolio Helps You Identify Your Ideal Client
Before I had a portfolio, I would go to bridal shows. I would design with the flowers and colors I loved and wanted to represent my business. With portfolio building in mind, I read and experimented with photography technics. I created a portfolio that was in sync with my brand. I would then use the pictures from the bridal show designs for my social media, which was a great success. Working with Indian weddings in the Hudson Valley, I could not get away with not having to do fabric draping. I built my portfolio by mocking up different fabric designs in my warehouse. I took it to the next level and used a fabric backdrop at the bridal shows. Designing for the bridal shows attracted the right clients and helped me create my portfolio and find my creative niche.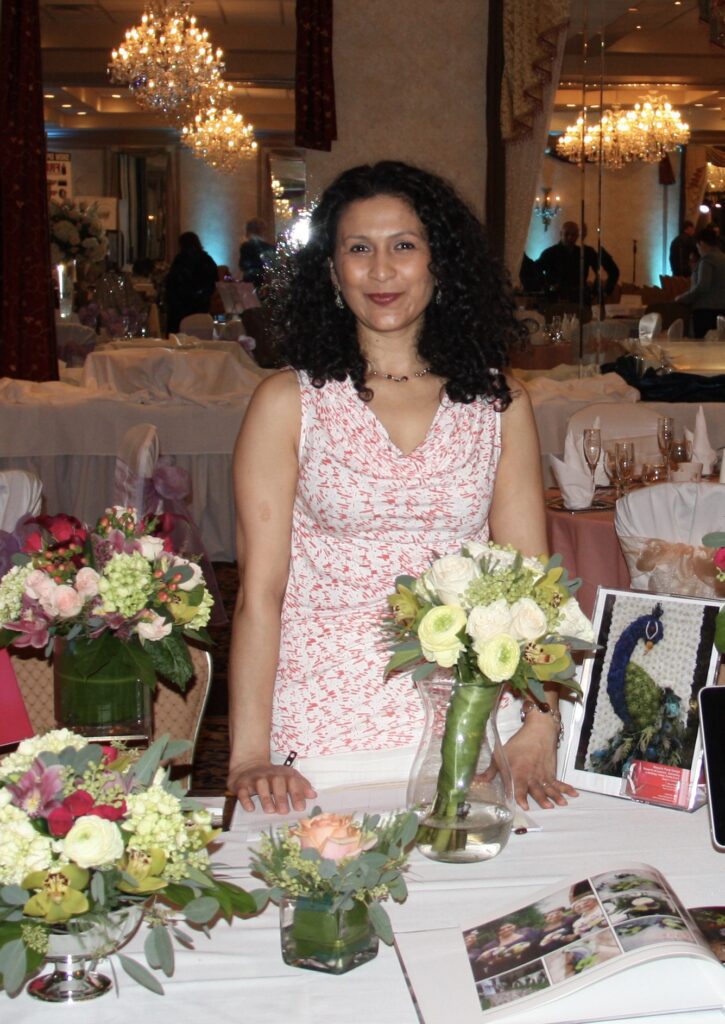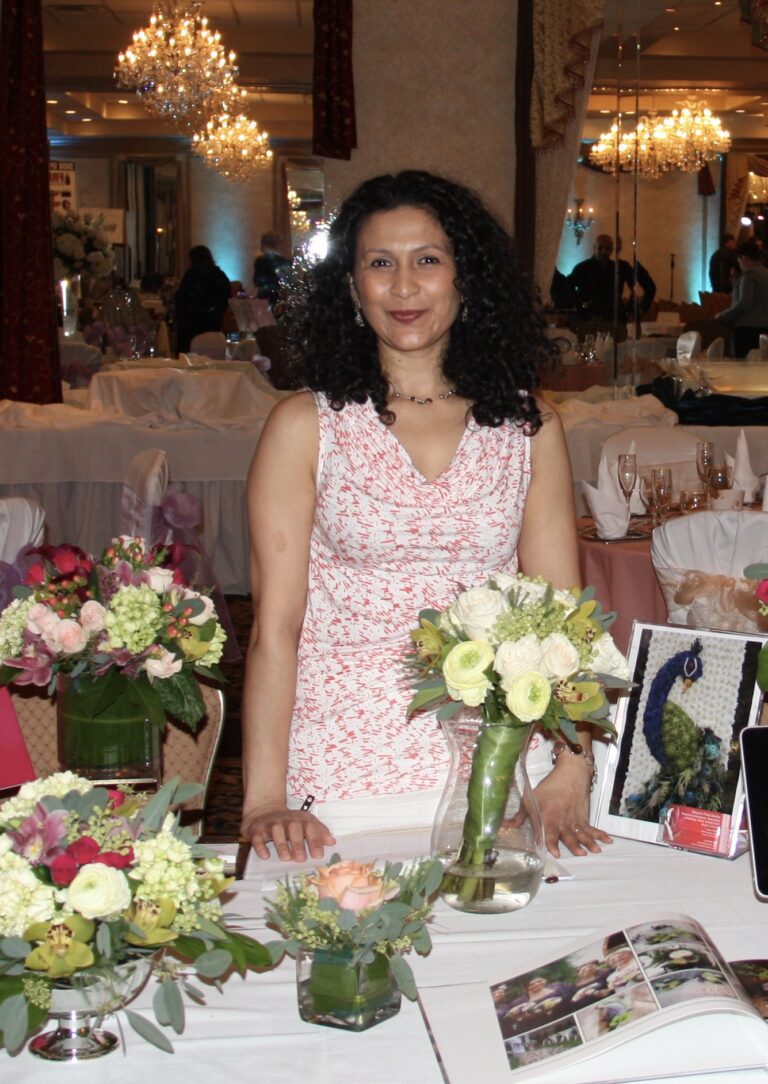 I believe it was because I was staying true to my authentic self,
it eventually brought the right ideal clients, AKS brides, my way.
Ultimately, understanding my style and who I was as a florist helped me identify my ideal clients. In addition, I noticed that when I leaned towards a more refined taste and a classic look, it helped me build my portfolio and attract the brides I loved working with, and I continued to define my ideal client with a lead capture form
When I evolved as a business owner, my lead capture form evolved with me, I implemented a lead capture form in which I asked many more questions upfront. Even though the industry standard is to keep the upfront questions to a minimum, it didn't work for me. I had a comprehensive questionnaire form from the start, which allowed me to differentiate one client from another. I realized that if I kept my lead capture form small, I wouldn't be different from my competitors. Brides send tons of submissions; I had to be different from the rest.
In addition, when the bride took the time to fill out my lead capture form, they knew what they wanted and were serious about finding the right florist and planner to execute their vision. Book a Demo and Learn more about this.
A comprehensive lead capture form weeds out random inquiries
and keeps you focused on serious inquiries only.
Floral Investment For The Event Is Important To Capture via Lead Capture Form
From the get-go, I would find out the client's budget (floral investment) and some items that were their absolute must-haves. It was crucial to know the items they wanted and how much they were willing to spend. This information instantly allowed me to understand if their expectations were realistic. If I had a bride with a guest list of 500, but their floral budget was $5,000, I knew it wasn't going to happen right then and there.
Items and budget were 50% to 70% of my proposal focus, so having that information upfront, allowed me to build proposals faster. The rest of the information was filled in after the initial discovery calls or meeting in person or via zoom. The client's Pinterest board was also helpful (I know it is a toss-up on liking or hating it). It allowed me to understand their style, flower arrangement, flower composition, and elements will help me build and send proposals much faster.
For the initial proposals, I never went into the nitty gritty details; I wanted to give the client a high-level view of what they would be getting. Once they signed the contract, we would go into small details then. The initial proposal was to ensure that my business was the right match for the bride.
The first proposal is really like a first date. If you have a great proposal-building system, you will have the upper hand for the first date to go well. An excellent built-in lead capture form on your floral software management can help you build proposals faster and better. Floral designers, software like True Client Pro has beautiful floral proposal templates that can significantly reduce your proposal-building time. I love Canva, but building the floral or planning proposal on it can be tedious, even with the templates.
Your Work Style Matters, And It will Attrack Your Ideal Client.
Identifying your style is the first and most important step toward attracting your ideal clients. For example, If you do a lot of rustic-style events, you will attract clients that want your style. You will not be getting a lot of inquiries from brides who want a modern wedding.
I kept my portfolio small. The styles that I specialized in were:
Classic
Rustic
Garden
Whimsical
Indian Weddings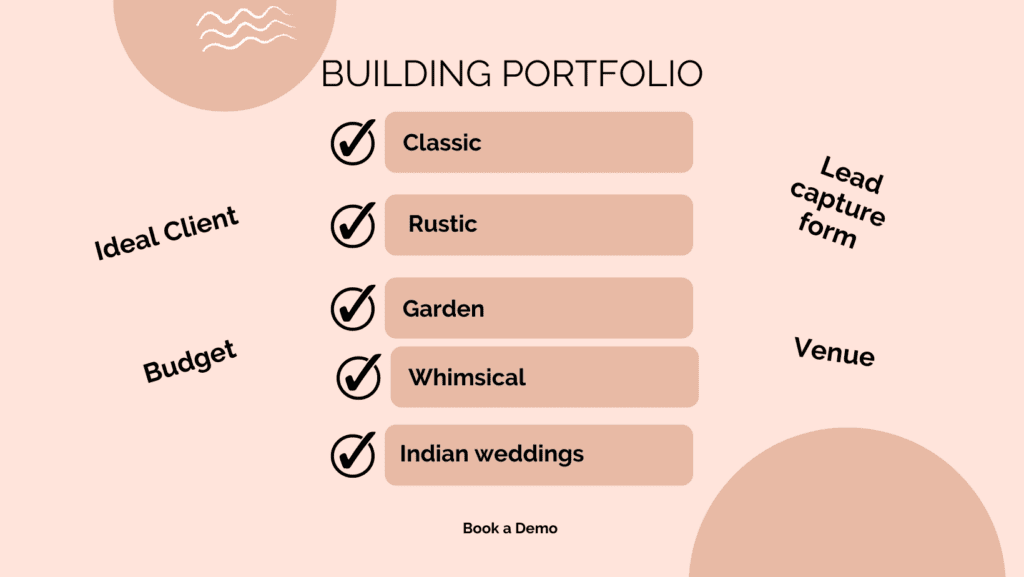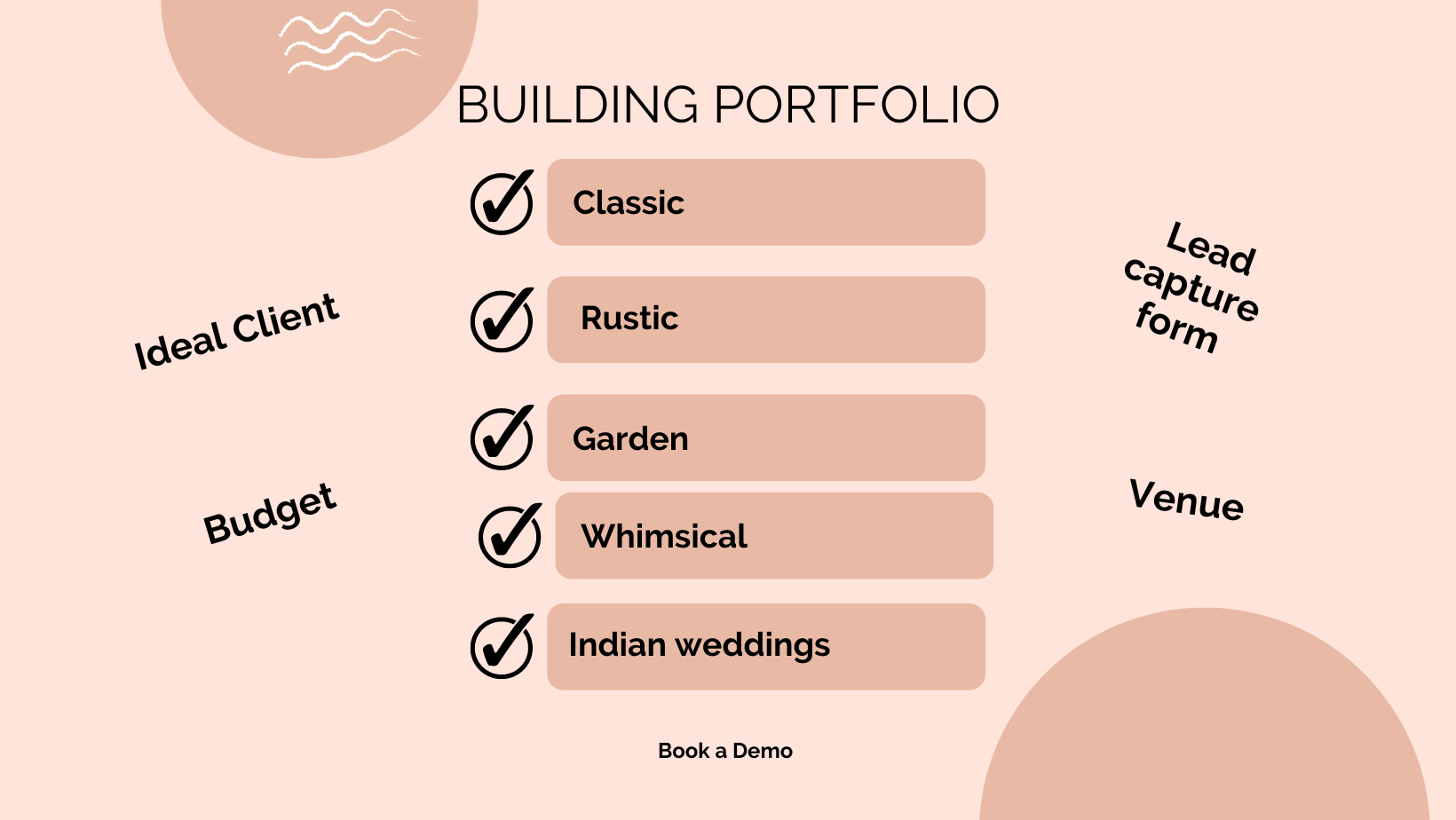 When you clearly understand who you want to attract to your business, you ultimately build the right portfolio to support your marketing efforts. Streamlining and executing the events you specialize in will allow you to know your client demographic and how to bring them to your business. Additionally, using the right wedding planner software is key.
The Venue Can Tell You a Lot About Your Ideal Client
Another way to define your ideal client could be knowing the vendors and the venue they are looking to use. Once you have worked with specific vendors, photographers, and venues, when you see their names on the client inquiry via lead capture form, you will have a pretty good understanding that the client is a good match.
When I realized how important it was to know who my ideal client was, I went down the rabbit hole of educating myself on this topic. Below I share my findings.
Why Should You Identify Your Ideal Client?
Identifying your ideal client in the event industry can be a helpful way to focus your marketing efforts and target your services to a specific group of people. Here are some steps you can follow to identify your ideal client:
Define your target audience: Consider the demographics of your ideal client, such as their age, gender, location, income level, and profession. Also, consider their interests, needs, and goals related to your event services.
Identify the types of events you specialize in: Think about the events you excel at and enjoy planning the most. This could include corporate events, weddings, birthday parties, conferences, brand install or themed events, or other events.
Consider your unique selling proposition: What sets your event floral & planning services apart from your competitors? Are you known for your attention to detail, creativity, or ability to stay within a budget? Identify your unique selling proposition and use it to attract your ideal client.
What you offer is important to identify: is it fresh florals, large installments, rentals, or service for delivery and pick up?
Research potential clients: Attending Networking events and bridal shows at a particular venue or location, collaborating with vendors such as wedding photographers, or having a listing on a particular website can help you identify.
Create a marketing plan: Once you have identified your ideal client, create a marketing plan that targets this specific group. This could include creating targeted ads, developing a social media presence, or attending industry events to network with potential clients and update your portfolio on your website and where you have your listings.
Remember, identifying your ideal client is an ongoing process that may change as your business evolves. Keep reviewing and refining your target audience to ensure you effectively reach the right clients for your event planning services.
Most importantly, refining your website lead capture form will allow you to capture the right audience. When they fill out your lead capture form with all the details such as event date, location, share vision board, colors and events, bridal party details, and venue details, it will help you start building the proposal and help you identify if they are a good match. Find out what best florist tools and programs are out there that allow you to customize your lead capture form. Wedding event planning software like True Client Pro includes a customizable lead capture form and a client portal that is a great fit for floral designers, wedding planners, and venue owners.
Reflect on Your Past Events To Fine-Tune, Your Ideal Client
Reflecting on past events can also help if you don't know where to start. Think about all the clients you loved working with: who they were, their budget, style, and the end product. What did you love about their event? Take notes from your past conversations about where they liked to shop, their profession, etc. Once you write this information down, analyze it. Is there anything in common that all those events and clients had? How did you go about their event: did you have the opportunity to upsell to the client from the initial floral proposal you submitted to the final invoice? Were the final gross sales higher among all those events compared?
When you know your ideal client, you will stop wasting time on the wrong inquiries and focus on what matters long-term on their initial proposals.
Reach out to the lead with a personalized message or automated email.
Tip: The rate of response is crucial. The sooner you follow up, the better. True Client Pro is a CRM for wedding planners and event florists. It has built-in automation that helps with speeding up this process.
Schedule a discovery call or meeting to discuss their needs and how your business can help. You can have a scheduling link added to your automated inquiry follow-up email after getting a submission from the lead capture form.
Present a proposal based on the specific needs they shared with you via the lead capture form. We recommend using True Client Pro software if you do not have a lead capture form and other florist business management tools. It has a client portal where your clients can continue to add information after the initial form submission.
Follow up with the lead to address any questions or concerns they may have. Proposal reminder automation is recommended.
Close the deal by securing their commitment to work with your company. Once they sign the contract, you can start working on all the details for their event.
Provide excellent service and follow-up to ensure customer satisfaction. Build long-term relationships. Always reach out to your clients after the event.
How to Identify an Ideal Client with a Budget Calculator on Your Lead Capture Form
First, create a budget calculator on your lead capture form. This can be a simple form that asks for the client's budget for their project or services and any other relevant information, such as the project's scope or timeline. Software like True Client Pro has a built-in budget calculator that easily captures clients' budgets.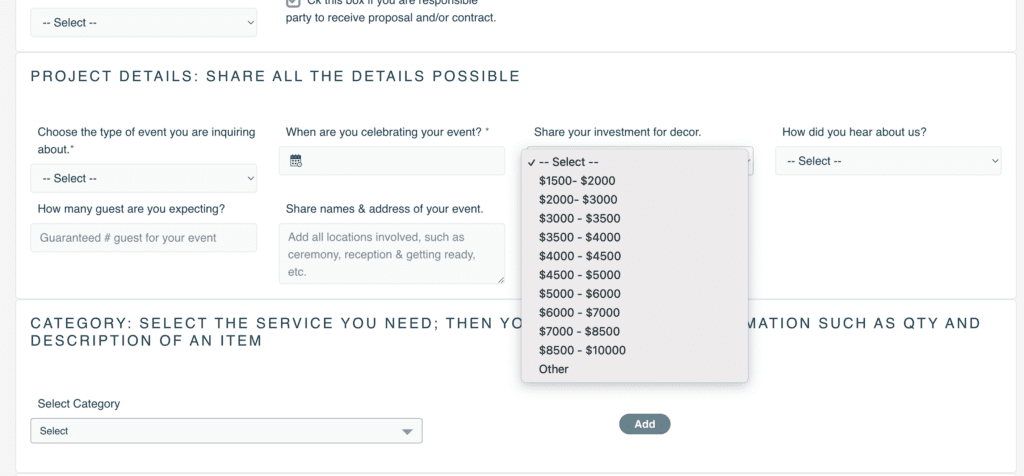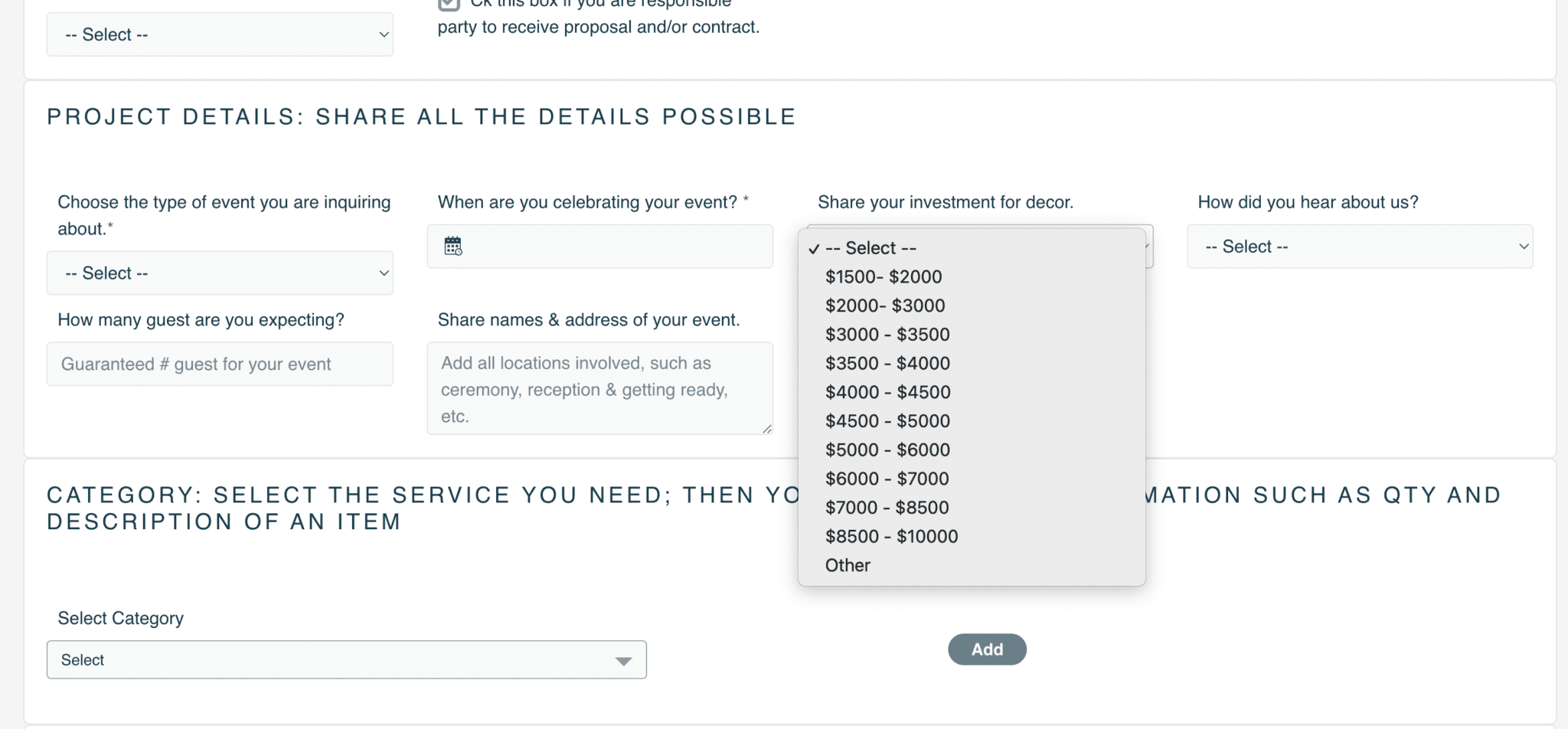 Once the budget calculator is in place, you can use it to identify ideal clients by analyzing the responses you receive. Look for clients with a budget that aligns with your pricing and services.
You can also use the budget calculator to identify potential upsell opportunities. For example, if a client has a higher budget than you typically work with, you may be able to offer additional services or packages to fit their needs.
In addition to using the budget calculator to identify ideal clients, you can also use it to disqualify potential clients who do not have a budget that aligns with your pricing and services. This can help you avoid wasting time and resources on clients who may not be a good fit for your business.
As you collect data from your budget calculator, analyze it regularly to identify trends and patterns in your client's budgets. This can help you tailor your marketing efforts and services to better meet your ideal clients' needs.
Finally, it's important to research the best wedding planning software for professionals with a built-in budget calculator. Wedding planner design software like True Client Pro has this feature easily available.
Can You Identify Your Ideal Client From Your Lead Capture Form?
Yes, by allowing potential clients to fill out a lead capture form, you can gather information about their needs, preferences, and budget, which can help you identify if they are a good fit for your business. This can include details about their wedding, their guests, and their goals for working with you. By analyzing this information, you can determine if this client aligns with your ideal client profile and whether you can meet their needs and expectations. This can help you identify your ideal client and tailor your marketing and sales efforts accordingly.
Ultimately, the lead capture form is crucial to knowing your clients and building proposals for them faster. The lead capture form information must be automatically populated on your proposals. If you do not have that feature, you may be wasting too much time on simple tasks like copying and pasting. True Client Pro software for florists allows you to capture leads and auto-populate their details in the proposal.
Use Lead Capture Form to Build Proposals Faster
A lead capture form can help you build proposals faster in several ways:
It allows you to quickly and easily gather information about potential clients, such as their names, contact details, and the services they are interested in.
The form can also include fields for gathering specific details about the client's needs and goals, which can help you tailor the proposal to their requirements.
Using a lead capture form, you can streamline your proposal process and focus on creating a customized proposal rather than tracking down clients and gathering information manually.
The form can also help you track leads and which clients are interested in your services, which can help you prioritize your time and efforts more effectively.
Most importantly, you should find the right software for wedding planners that gives you the option to customize your lead capture form, so it reflects your business. Professional wedding planner tools are essential when streamlining your lead capture form. Additionally, if your software has built-in proposal templates, like True Client Pro, all of the details from the lead capture form will be pre-filled for you, which saves a lot of time so you can focus on staying creative.
How to Choose a Client That Reflects Your Brand and Style?
Define your brand and style: Before choosing a client that reflects your brand and style, it's important to understand those things clearly. This may include your values, aesthetic preferences, target market, and the services or products you offer.
Research potential clients: Start by researching potential clients in your industry. Look for companies or individuals that align with your brand and style. Look for commonalities in terms of values, aesthetics, and target market.
Create a target list: Create a list of potential clients that you feel would be a good fit for your brand and style. This could include companies or individuals you admire or have a similar aesthetic to yours.
Reach out to potential clients: Once you have a list of potential clients (from the preferred vendor list that you collaborated with the venue), reach out to them and explain why you think your brand and style would be a good fit for their business. Be prepared to showcase your portfolio and any relevant experience or skills that would benefit their needs.
Evaluate the fit: After reaching out to potential clients, it's important to evaluate the fit. Consider whether their values, goals, and target market aligns with yours. If you feel that the fit is not right, it's okay to move on and continue searching for the right client. Choosing a client that reflects your brand and style is important to ensure a successful and fulfilling working relationship.
What are the pros and cons of using a Budget Calculator?
First, identify your ideal client who vibes with your brand, style, design, demographics, and budget. This can help you weed out the other leads. You can do this using a budget calculator. There are some benefits of using a budget calculator and some cons. Remember that maybe you are looking to build a portfolio, and you may accept a client that is not in your budget range, but it allows you to create and hone your style.
Some benefits of using a budget calculator include the following:
Helps you focus your marketing efforts on the right audience: By identifying your ideal client, you can tailor your marketing efforts to reach those most likely to be interested in your services.
Allows you to set realistic expectations for clients: By knowing the budget range of your ideal client, you can better set expectations for what services you can offer and at what price point.
Helps you prioritize your time: By focusing on clients within your budget range, you can prioritize your time and energy on projects that are more likely to be profitable for your business.
Some cons of using a budget calculator include the following:
May limit your potential client base: By focusing on a specific budget range, you may exclude some potential clients who may not fit within that range.
May lead to missed opportunities: By only considering clients within a certain budget range, you may miss out on potential opportunities to work with clients willing to pay more for your services.
May not take into account other factors: A budget calculator may need to take into account other factors, such as location, type of project, or level of complexity, which could impact the final price.
Ultimately, weighing the pros and cons of using a budget calculator is important as determining if it's the right fit for your business. It can be a helpful tool in identifying your ideal client. Still, it's also important to consider other factors and be open to considering clients outside your budget range if it aligns with your business goals.
Suppose you are considering using a budget calculator but don't want to miss out on clients with budgets outside your range. In that case, we recommend offering three-tier services, with tear one being the cheapest option and tier three being the most expensive. This way, you can have the flexibility and not lose potential leads. Tip: Most consumers will pick middle-tier pricing.
True Client Pro florist proposal software allows you to set customizable budget tiers. It makes your life so much easier when building proposals and closing clients. As you grow your business, it's important that you invest in wedding planning software for professional planners that best fit your needs.
Know Yourself, and You Will Know Your Ideal Clients
After going down the rabbit hole, I realized I knew much of what the industry experts suggested from my experiences and attending webinars and educational sessions. It's all about understanding your brand and who you are as a florist and event planner. Knowing who you are as a creative is the most important step in knowing your ideal client. Once you define your brand and style, it helps to build your portfolio.
However, I learned through my journey that using the right wedding floral design software to utilize lead capture forms, budget calculators, and proposal templates was crucial. Of course, once you know your ideal client, it's important to close them. Best florist software programs can help you increase your sales significantly by having all features in one place.
Therefore, an easy way to convert leads into clients is to have proper systems and utilize wedding planner tools. True Client Pro is one of the best wedding planning software today and helps you do just that.
Book a Demo to Learn More About True Client Pro
Thank you for taking the time to read this article. I put a lot of heart and soul into it because I want event entrepreneurs to know they have what it takes to grow and succeed.