Do you ever wonder what you should include in a floral proposal? Have you considered how much time you spend drafting proposals for potential clients? Is your proposal process efficient, and does it convert into sales? If you ever ask yourself any of those questions, you are in the right place to get the answers you need!
The best proposal process starts from the moment you first hear from your lead. Your website lead capture form is the key to gathering the initial details about your client's event. Whichever way the clients are getting in touch with you, you should be capturing the following details on the "first date":
Client Details: full name, email, and phone number.
We recommend collecting a secondary contact. It could be the mother of the bride, groom, or maybe even an already-hired event planner. This will help with future communication.
Event Details: type of event, date, venue, client's vision, and inspiration.
Budget Details: how much the client, bride, and/or groom are willing to spend.
Turn Warm Leads into Paying Clients with Beautiful Floral Proposal Templates
Once you have the warm lead, you can turn them into a paying client by nurturing them via emails, stunning proposals, and consistent communication that can be found all in one place. You will get hired by creating a perfect proposal that reflects your client's vision and goals. However, before sending the proposal, a few steps should come first.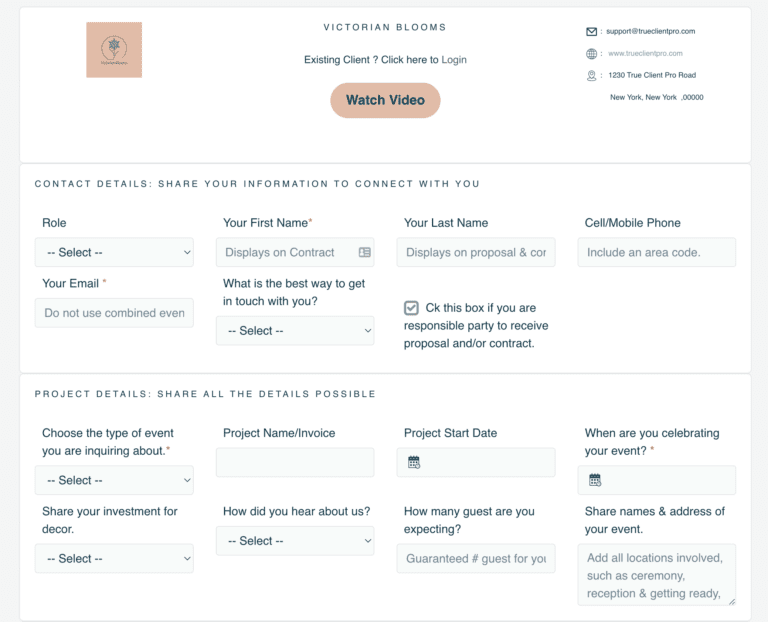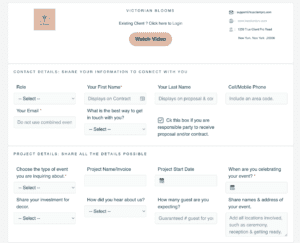 Tips for Nurturing Leads and Converting Them into Clients
Respond to inquiries right away. If you don't already have email automation in place, you should consider it. Trust us; automated emails are your best friends!
The inquiry follow-up email should include your process overview to let your clients know what to expect.
Be sure to include a link so clients can book a consultation call with you. We recommend virtual zoom calls as they have screen-sharing capabilities. This way, you can showcase your portfolio.
Getting a virtual meeting scheduled allows you to demonstrate authority in your niche and helps to display your expertise. Your business expertise can be about various things: venue(s), or floral knowledge, which can include floral names, colors, availability, and how certain arrangements may hold in different weather conditions.
After the initial virtual or in-person consultation, you should tell the client when to expect their proposal, how long it will be valid, and the retainer amount for your service. If your proposal turnaround time is usually 2-3 days, build in a little more time by giving the client an estimate of 4 to 5 business days. When you overdeliver on your time, it is a nice bonus for your business, and it starts to build trust with the client for sure!
Example for your email follow-up with your client after a lead comes in:
Dear Bride,
Congratulations on your engagement! We understand that planning a wedding can be overwhelming and time-consuming, so we want to offer our services to help make your special day as stress-free and memorable as possible.
As a professional wedding planning company, we have years of experience coordinating all aspects of weddings, from venue selection and vendor contracts to floral decor and logistics. Our team ensures that every wedding detail reflects your unique style and vision.
We would love to schedule a consultation with you to discuss your specific needs and how we can assist in bringing your dream wedding to life. In the meantime, please find attached a proposal outlining our services and pricing.
We hope to hear back from you soon and look forward to the opportunity to be a part of your special day.
Sincerely,
[Wedding Planning Company]
How to Create Perfect Floral Proposal Templates Quickly
It is important to present your proposals quickly. The Floral Industry leader's study shows that a bride tends to connect with the person who communicates with her first and continues to communicate. This helps you to win her over. First, when using a lead capture form, you should collect as many details as possible, including the client's vision, inspiration, colors, elements, venue information, and the service they are looking for.
In addition, you should have ongoing communication with the client, preferably via a client portal linked to your online management system. True Client Pro is the only software on the market with a client portal feature.
A digital client portal linked to your CRM will ensure no communication is lost in translation. Avoid collecting client event details in multiple emails, texts, calls, sticky notes, spreadsheets, dropbox, google drive, etc. Everything should be in one place to reduce stress and increase productivity.
Asking the right questions is key. During a consultation, always have a set list of questions. If you don't have a comprehensive lead capture form, you can ask your potential clients to fill out a questionnaire or use a template to get the necessary details.
As you grow your company, you can have your assistant do the preliminary consultation or use an automated built-in questionnaire similar to what True Client Pro Floral and Planning software offers for event professionals.
When you are ready to take your business to the next level, find the right CRM that allows you to have more freedom, work remotely, attend to your family needs, network, be more creative, and give yourself time to work on your business while not on site. We recommend implementing CRM software like True Client Pro, which intuitively allows you to run the front and back ends of your business in one place.
Here are a few questions you should include in your questionnaire:
Do you have a favorite flower/s and color/s?
Do you have a special flower you would like to include to honor your parents and/or grandparents?
What is your favorite design and style: modern, rustic, or garden?
What is the venue's name, and will this venue only host your event on that day? This information is crucial to better understand how much time you will have for set-up and Strike/breakdown.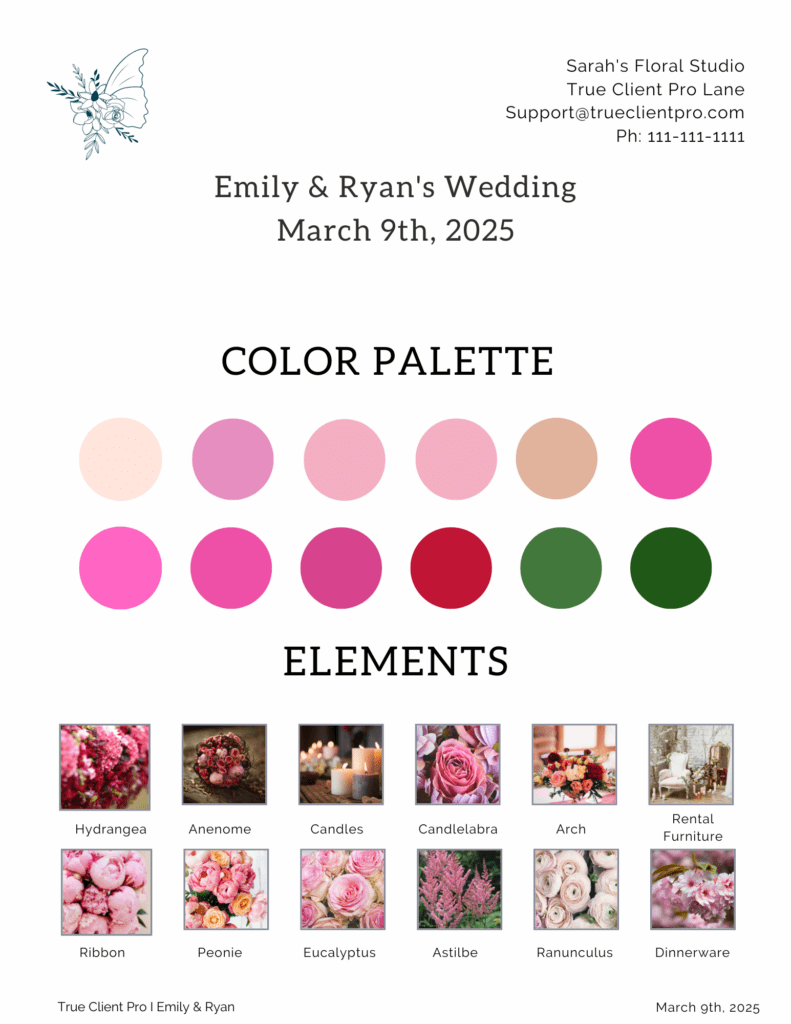 Tip: The client's venue can tell a lot about their style preference. Use the venue as an inspiration for the centerpieces you may suggest that display your expertise. In addition, the client's floral budget/investment, along with the # of guests, will help you determine the size of your proposed centerpieces and price.
Remember, you can always upsell later. Get high-level information from your client to capture their vision that aligns with their budget.
Once the consultation is done, and you have gathered all the event details, building the proposal should be a breeze! For any missing information from clients, you can ask them to add it via the client portal to keep it all organized in one place.
What to Include in Proposals and How Long Should it take to create Proposals
It all depends on what type of florist you are, your experience, and your business process. Spending time formatting, looking for attachments in the 30-email-long thread, composing emails, researching the types of flowers, or calling your wholesalers for the flowers' availability will take you much longer. As you curate more events with details and become more seasoned, you will get this down to a science.
True Client Pro Floral software has a built-in product library with over 3500 items tagged with colors and elements and auto-populates the design board. This will allow you to build a design board page along with the color and elements with just a few clicks. Less than 5 min of work. You can quickly add the florals and hard goods from this design board without calculating the recipe and highlighting what flowers you will use for the design. This will also show up automatically on your line item list with an image, description, and quantity, which adds another page to the proposal. The client's information is auto-filled on the cover page, and just like that, it's done. The fee and payment page is auto-formatted as you create the payment schedule with the date and amount. No matter what level you are in your career, you can create beautiful proposals in less than an hour with our florist software program.
Time is money. You should always strive for efficiency to streamline and automate repeatable tasks, leading to increased productivity. Using the right software, like True Client Pro will help you save a lot of time on proposals.
Here are a few tips for creating proposals faster:
Use proposal templates.
Have 3 different price points for your business services.
Don't get caught up in the tiny details.
Use the client's buying language by including venue images, bridal attire (if shared), colors, elements, and any additional images, such as a Pinterest board. Apply the client's vocabulary in the proposal to describe the vision.
Be illustrative but not too specific. Use phrases like large bouquets, garden style in warm jewel tones, etc. Discuss the exact details and dimensions during the proposal review call or the design meeting after the proposal has been accepted and the deposit has been paid.
Create and use invoice templates with basic details of each item, such as the bridal bouquet, boutonnieres, and centerpieces. Once you add the template to the client's inquiry project, you need to tweak the little details, add colors, styles, etc.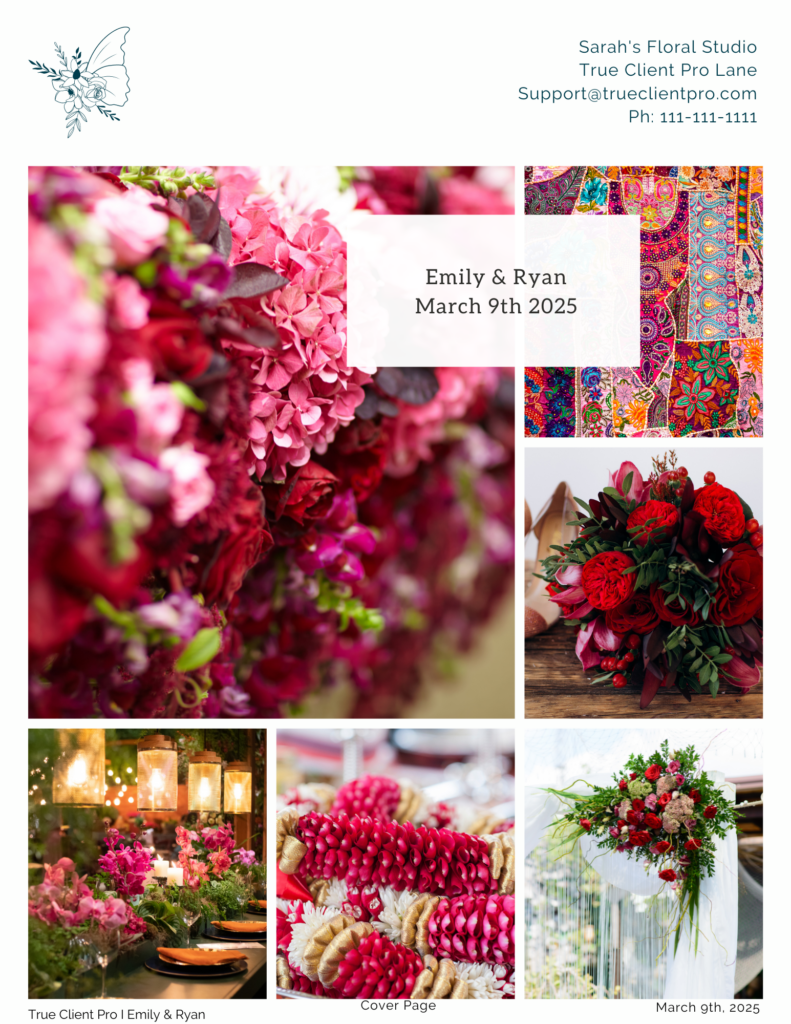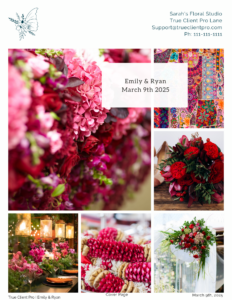 Should you create floral recipes before sending a proposal?
This is a preference for each designer. We help you determine the answer.
Bless your heart if you are the florist who creates floral recipes before the proposal gets accepted! Here is a tip: We suggest using recipe library data to help you find similar recipes with colors and flowers to make this process more efficient instead of starting from scratch. This will allow you to create recipes for cost purposes and save time. Why spend time creating recipes when you are still not 100% sure if the client will book you? There is a way around this; hear me out. With wedding floral design software like True Client Pro's product library of over 3500 items tagged with colors and elements, you can auto-populate the design board. From this design board, you can quickly add the florals and hard goods without calculating the recipe but rather highlight what flowers you will potentially use for the design.
When creating floral recipes, what should you include?
Your recipe price should always include labor. The floral industry standard for flowers is 3.5 times markup and 2 to 2.5 times markup for hard goods, plus any items your hand touches while creating that floral design. A good floral arrangement design software will allow you to adjust the high season costs for the wholesale price and markup per project to be accurate for the proposal. Implementing those important elements will never fail you and will bring in profit every time. It's all about utilizing the best florist tools to ensure you are not losing money on your profit margins.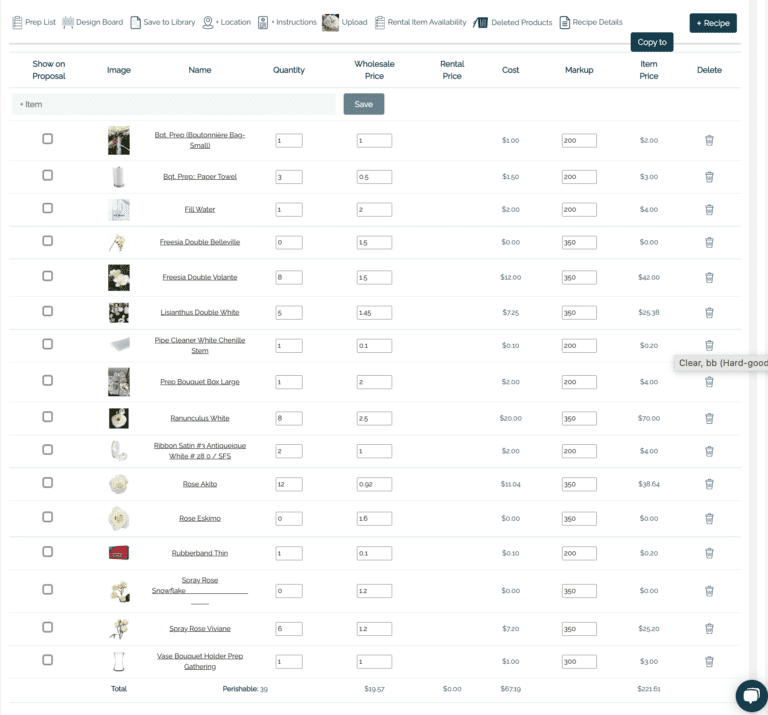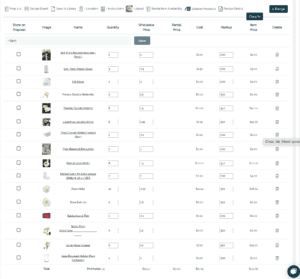 Note: I have never included specific recipes before giving a quote for an event with a budget under $20,000. Remember, you are giving them a quote, not the contract's final price. Leave some room for discussion. You will have a chance to upsell later during the design consultation. For the initial proposal, include the most important items for the event. Don't get caught up in small items like Mother Mary's flower, officiant's boutonniere, or crown for the flower girl.
After doing all that work, time to bring it to life with colors, design elements, images, rental items, etc.
Proposal templates with formatted colors and elements will be a great time savior. Wedding floral design software like True Client Pro has this feature built-in, along with additional features such as a lead capture form, client portal, timelines, and worksheets.
Be sure to specify and mark rental items and include this in the proposal. Setting expectations early about lost costs for rental items is important in case the guests take them home. Include the rentals deposit and missing items fee in your proposal.
Add images for all the line items if you have them in the portfolio, which can be added in True Client Pro Gallery. Also, You can collaborate with clients on the True Client Pro client portal by clicking on the inspirational vision board, and Pinterest links handy available in one place.
Ask the client about all the locations involved in the event. The accurate number of locations can tell you how many team members and cars/vans you will need. Take a close look at the design of the centerpiece and/or the arch. If this is a big floral installation, consider the team labor, setup, and breakdown/strike-down time. Most creatives underestimate this important section in their proposals and lose profit.
Tip: Create a standard percentage fee for the setup/break down labor cost and tweak as needed. For example, 20% to 35% is an average standard amount that should be included for the event. Don't get caught up in miles, tolls, gas, and credit card fees. Keep it at one lump sum fee amount, but make sure the fee pays for all the items mentioned above.
All About Payments
The last section of your proposal should state the total amount, the payment schedule with the dates, the amount for a retainer (deposits), and the payment method.
Depending on your business practice, you can display line item price, category price, fees, and all the totals on the proposal. Displaying each of those items has its pros and cons. Here are a few things to consider:
When you share line item prices, you might often never hear back from the client because they may be shopping for a lower price. Displaying prices should ultimately depend on how many inquiries you are getting. You can put it all out there to avoid wasting time if you are a very busy event florist. However, if you are less busy or have a dedicated team, you can send your proposals without displaying all the line item prices and ask the client to have a meeting to review the proposal.
Following up with a client after the proposal is sent is key. Be sure to include a link to book a call or, better yet, book a follow-up call when you speak with the client for the first time. This will help increase the show rate and your sales conversion rate.
Automation is key when following up with clients. We recommend using the best wedding planning software for your needs. True Client Pro has built-in reminders sent automatically after the client receives their proposal.
It's your choice to include the terms and conditions of the contract. I have yet to find a client who has signed on the very first proposal sent; there is always something that needs to be tweaked. I always wait till the proposal is reviewed and accepted, then I send them the contract.
As you know, a signed contract and a processed payment is the way to seal the deal. Make it easy for your clients to collaborate on their projects, view proposals, and pay you online. Wedding planner software, True Client Pro, has a built-in payment processing feature linked directly to your account. This software streamlines communication through the planning process, which ultimately converts leads into sales. You should track that along with your gross sales to keep you focused on your business goals.
The Easiest Way to Create Proposals is to Utilize the Right Software
To sum up, there are many ways to create proposals. However, the best and most efficient way is to utilize florist proposal software like True Client Pro. With this software, you can gather all the event details immediately by having your clients fill out the lead capture form. From there, all of that information is auto-filled in the proposal template of your choice. True Client Pro has multiple free proposal templates that will satisfy your needs. Finally, if you need more options to utilize more images and different styles, you can always purchase additional proposal templates at a very low cost.
Bookmark our blog page to learn more about the following topics:
wedding planning software for professional planners
professional wedding planner tools
software for florists
best florist tools
florist software programs
And much more!